Charlotte Hornets injury news: Cody Martin out with knee procedure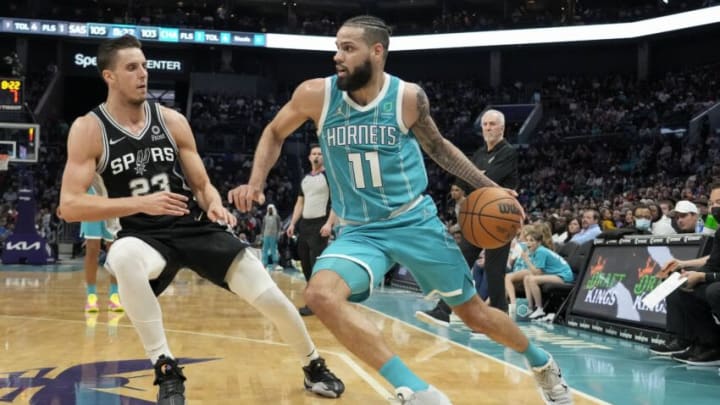 Mar 5, 2022; Charlotte, North Carolina, USA; Charlotte Hornets forward Cody Martin (11) drives to the basket against San Antonio Spurs forward Zach Collins (23) during the second half at the Spectrum Center. Mandatory Credit: Jim Dedmon-USA TODAY Sports /
After the difficult offseason that the Charlotte Hornets had, it was always going to require a clean bill of health for the team to make noise this season.
Unfortunately, the injury bug has already hit the team in a major way, as LaMelo Ball, Terry Rozier, Gordon Hayward, Dennis Smith Jr., and Cody Martin have all missed time.
Now, Cody Martin appears set to miss even more time than originally thought, as his original quad injury diagnosis has been reassessed as a knee issue.
What does Cody Martin's injury mean for the Charlotte Hornets?
Martin represents Charlotte's best perimeter defender and his new contract with the Hornets was one of the few bright spots in an otherwise tumultuous offseason. While he has never been an explosive scorer, he does have the ability to knock down open shots and is able to capitalize on his defensive prowess in fast break situations.
When could Cody Martin return for the Charlotte Hornets?
A six-week recovery timeframe would mean that Martin could return around December 23rd. At that point, the Hornets will be on their extended Western Conference road trip that begins on December 18th in Denver against the Nuggets and concludes on December 27th in San Francisco against the Warriors. While Martin could be ready to return at some point during this stretch, the Hornets would likely not prefer to have him return during an extended road trip and could opt to have him stay at home instead.
The Hornets will then return to Charlotte for four consecutive home games between December 29th and January 4th as they take on the Oklahoma City Thunder, Brooklyn Nets, Los Angeles Lakers, and Memphis Grizzlies. With an entire week consisting of home games, this stretch of games makes sense as a possible window for Martin to return.
With the Hornets already sitting at 3-11 and having lost eight straight games, the record may be unsalvageable by the time Martin returns. There are 21 games between now and the beginning of the homestand in which Martin might return, and at that point the Hornets would have played 35 games. With nearly half of the season completed at that point, it might be a case of too little, too late for the Hornets and for Martin.